A new approach to company building
Learn about a novel approach to company building. Overcome the costly barriers of startups and unleash creativity with a new framework.
Brilliant ideas for innovative companies can often come with a hefty price tag. The traditional approach of starting a company can be very inefficient in terms of resource management. From creating a legal entity to securing funding, recruiting a team, setting up an organizational framework, and gaining expertise in various domains, the process can be time-consuming and distracting from the actual product development with which it all begins. This increases the risk of failure and makes innovation more expensive, as talented creatives and product people are forced to acquire skills unrelated to their core expertise.
Enabling creative and product people
So, how can we change this? Also, how can we unleash the potential of outstanding talent to bring their world-changing ideas to life without being restricted by external factors? One possible approach is to rethink the entire process of product development (and ultimately company building). What if creatives and product people could focus solely on their core competencies, without having to worry about non-essential tasks? What if they were provided with all the necessary resources and services to fully commit to the product development process? Just imagine the capacity that could be freed up and dedicated to the product itself. It's not unlikely that this saves up to 50% or more of the time spent on the endeavor. For those who have been involved in building a new company before, think about how much time you were actually able to dedicate to the product development per week, relatively speaking.
At betascale, we are doing just that. In essence, we are standardizing all generic components of a Software-as-a-Services (SaaS) company – from code to operations. These components can then be consumed as services when someone is working on a new idea, freeing up valuable bandwidth and time for what matters most. Other than that, this obviously also results in significantly lower costs and enables us to allocate more capital to the actual USP of a given product.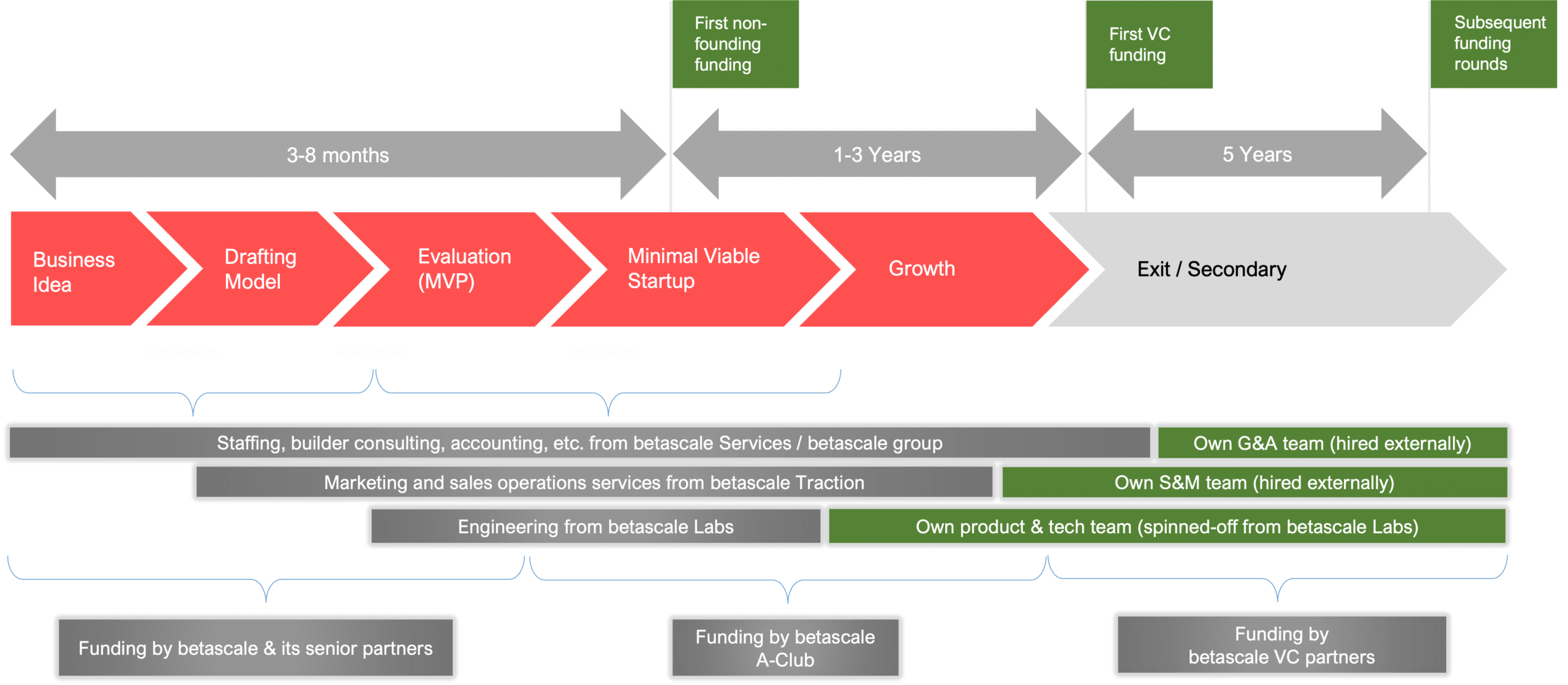 The content studio analogy applied to company building
An analogy that comes to mind is the concept of modern content studios like HBO, Netflix, and Amazon. When you want to make a movie, you don't need to create an entire movie studio from scratch and go through all the painful learning experiences others have gone through before you. Instead, you can make use of a highly functional infrastructure and focus on executing your vision for the movie. If you need help along the way, you can access the provided resources and expertise. It turns out, we can replicate this model for company building as well.
betascale provides creatives and product people with a comprehensive suite of company infrastructure. This includes a legal framework to operate from, funding, leadership, HR, technology, analytics, design, marketing, sales, and distribution channels, as well as access to a pool of experts in fields like legal, pricing, and intellectual property, among others. By creating shorter feedback loops, this infrastructure becomes more valuable over time as the process of launching new products becomes easier to repeat. This, in turn, attracts even greater talent, a group of people obsessed with the product itself, not just the company. Some of the products developed within this framework eventually become standalone companies, while others may not. But overall, it creates a new and interesting framework for more efficient creation of products and companies that positively impact our lives.
Join the band!
Rethinking the traditional approach to company building by providing creatives and product people with a comprehensive infrastructure revolutionizes the way innovation happens. By freeing them from non-essential tasks and enabling access to necessary resources and know-how, we can unlock the potential of more outstanding talent and make innovation more accessible and efficient. It's time to unleash the full power of creativity and bring world-changing ideas into existence.

On this journey, betascale is open to talent looking to gain a foothold in software and entrepreneurship. Specifically, we are looking for people who ship product at a high cadence and bring a high level of doer attitude. Checkout out open positions at https://betascale.ch/careers/ or DM me directly to have a chat.